Velvety smooth, a hint of sweet, and vibrantly orange, these creamy carrot soup recipes are a favorite for everyday dinners and special occasions alike.
Yep, I'm a definite carrot soup fan. So I thought I'd round up some creamy carrot soup recipes – 11 of them! – from a few of my favorite talented bloggers across the web. Okay, three of them are mine – definite creamy carrot soup fan right here.
Among these recipes – Thai red curry, one that doesn't even touch the stovetop, another with a Southwest spin – you're bound to find a fave.
Creamy Roasted Carrot Soup with Coconut Milk & Quinoa
You'll want to reach for this velvety smooth, luxuriously creamy, lightly spiced soup time and again this season. Dress it up with quinoa or any grain or pasta you like!
Get the recipe
Instant Pot Curried Carrot Red Lentil Soup
Curry flavors and Instant Pot ease make this one just about the easiest you might ever make (delicious too)!
Get the recipe
Healing Carrot Soup with Ginger & Turmeric
A vibrant, antioxidant-rich soup designed to have you feeling better in no time. Plus: It's gorgeous!
Get the recipe
Creamy Tomato Carrot Soup with Red Curry
This carrot-tomato soup from Rachael Hartley Nutrition fully loaded. I love that! A hearty base zipped up with red curry paste then heaped with quinoa, avocado, and almonds before serving. Brilliant.
Get the recipe
Creamy Carrot Orange Soup
Zippy orange and smoky chipotles are unexpected additions to carrot soup, yet they make SUCH perfect sense here in this recipe from Neighborfood.
Get the recipe
Creamy Roasted Carrot Ginger Soup
Because sometimes creativity can be found in simplicity, right? This one tastes surprisingly complex for so few ingredients. The key? Caramelized roasted carrot goodness.
Get the recipe
Southwest Carrot and Black Bean Soup – Melanie Makes
A velvety roasted carrot base heaped with black beans, fried onions, and cilantro. Love this super hearty soup from Melanie Makes! Vegetarians can simply sub vegetable broth for the chicken broth.
Get the recipe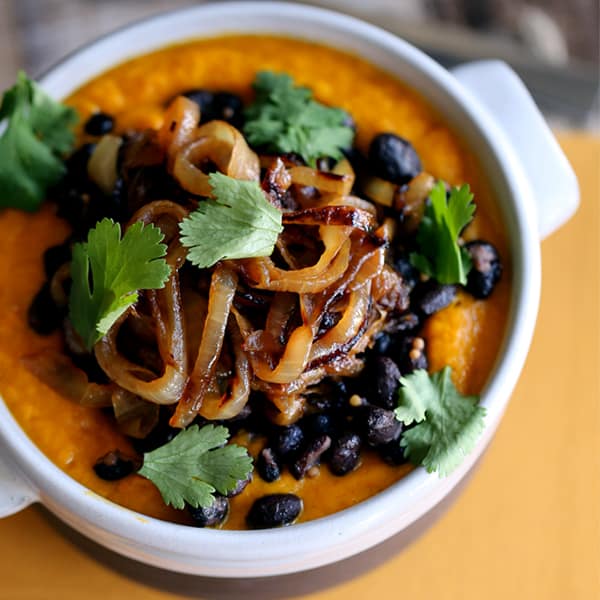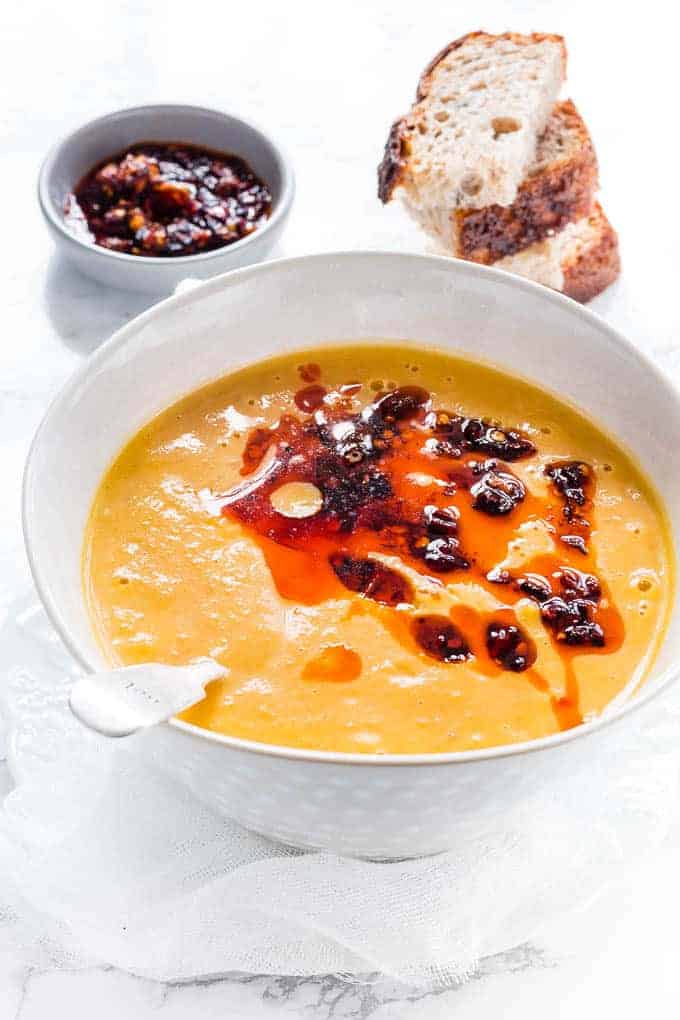 Five Spice Sweet Potato & Carrot Soup
Recipes from a Pantry brings you this unique (and spicy!) carrot soup recipe. Love that drizzle of chili oil over the top.
Get the recipe
Pea and Carrot Soup
Peas and carrots in soup form! This unique take on carrot soup from The Forked Spoon is seasoned with curry powder for tons of flavor.
Get the recipe
Roasted Carrot-Apple Soup with Paprika Brown Butter
Paprika-laced brown butter, creme fraiche, and chives top this sweetly spiced carrot soup from An Edible Mosaic.
Get the recipe
Slow Cooker Carrot Apple Soup with Za'atar Croutons
Everyone loves a good dump-it-and-forget-it Crock Pot recipe, and this delicious carrot soup from Foxes Love Lemons is no exception. I love the golden za'atar crouton garnish.
Get the recipe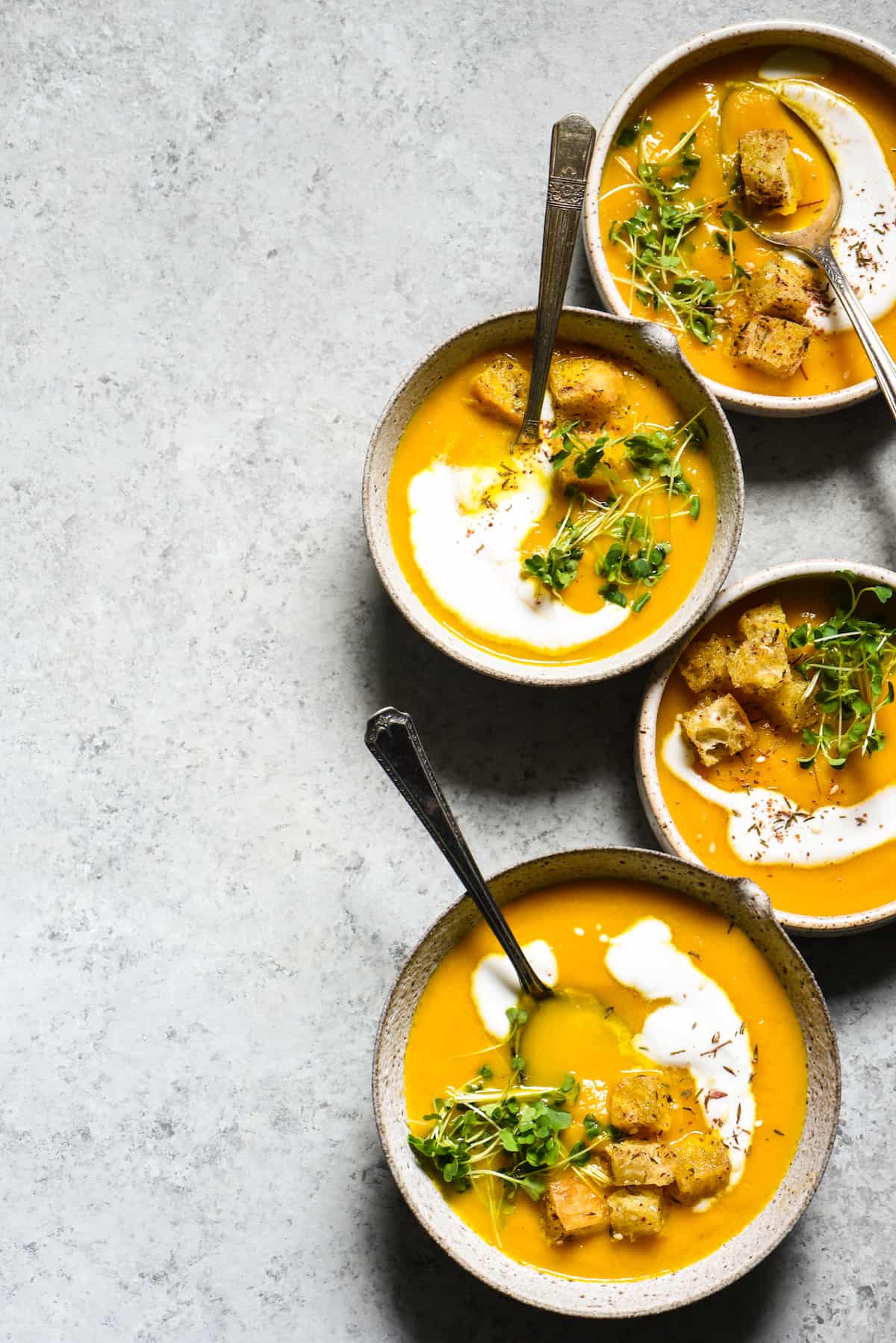 This post may contain affiliate links, which means if you click on a link and make a purchase, I may receive a portion of the proceeds. More about this
here
.